Julianne's Weight Loss Success Story
Meet Julianne, our latest BariMelts inspirational success story! Get to know more about her Vertical Sleeve Gastrectomy experience and how her weight loss journey changed her life!
Julianne Withers
Norton Shores, MI
Vertical Sleeve Gastrectomy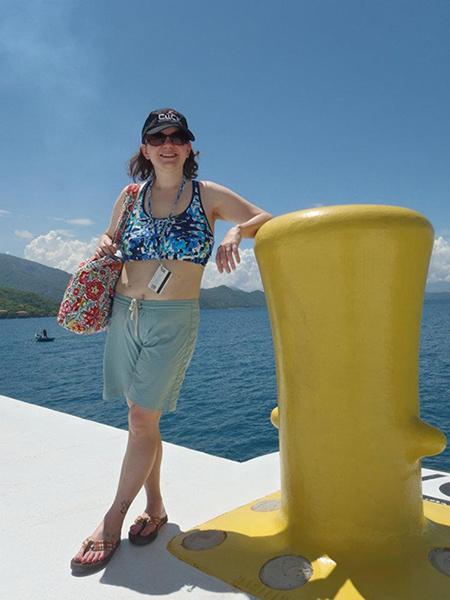 Height: 5'1"
Starting weight: 203 lb
Current weight: 122 lb
I realized that surgery was the best choice for me after my last failed diet plan.  My cupboards were full of various diet plan products and I was getting heavier and heavier. I also got some blood work back saying I was pre-diabetic.  I also had a CPAP machine to help me breathe while I slept and had acid reflux and fertility issues. Something needed to be done, so I went to a seminar at my surgeon's office after my primary care doctor recommended him!
The first six months after surgery were ok! It was becoming spring, my gallbladder had to come out, I went back to swimming laps at the YMCA, and we even took a cruise!  We are avid cruisers and I was worried how my new eating habits would affect my cruising and they didn't!  I was able to walk around the ports and have my back not hurt! Amazing!  We could snorkel and I wouldn't feel weird in a bathing suit!
People treat me differently.  I get more smiles and more doors open from men.  It's sort of sad that it happens that way, but it is nice to be on this side of it.  I go out of my way to smile at heavier people because I still remember what that was like.
I'm able to do a lot of the same stuff since surgery, but it is with less effort and pain!  Especially walking
"I talk about my surgery a lot – even in grocery stores. I am a success story! People listen. I listen back. That is where it all starts."
A challenge I face is making sure I take my vitamins every day.  I know that is a standard answer for someone here at BariMelts, but it is true!  It was also hard in the beginning to go to dinner with my family and watch them eat ribs and fries. Now I can eat *everything* but just tiny amounts!  French fries were very hard in the beginning to get used to not eating while my stomach was healing.
Another challenge I face is the stigma against bariatric surgery.  I talk about it a lot – even in grocery stores.  I am a success story! People listen.  I listen back.  That is where it all starts.
These days, I do a lot of blogging.  Partly I blog about grief as we have lost some pregnancies, I also blog about my life since weight loss surgery, and most importantly I blog about new products that I love!  People trust my opinions and like to hear what I think before they buy something themselves!
Some words of wisdom from me:  Fix your brain first. That is where your cravings come from.  Also, go to a seminar – you have nothing to lose and everything to gain!  Lastly, find a support system — the internet has a ton of us!  I can be your cheerleader!
Good luck!
Save this article for later by pinning the image below: